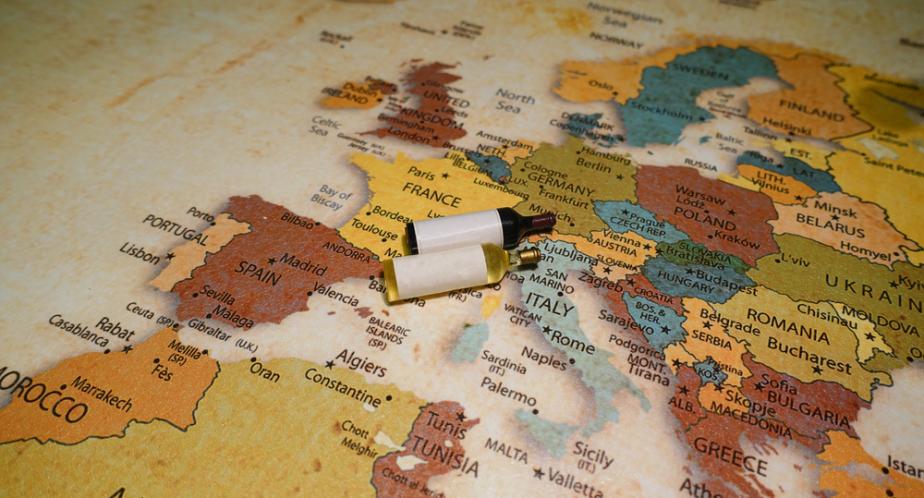 Wine and travel go hand in hand. Now that covid restrictions have more or less lifted, many people will find joy and excitement in finally planning overseas jaunts and rekindling that passion for travel and culture while exploring new tastes that have been suppressed for so long.
In this blog post, we have highlighted some of our favourite wine regions across Europe. Some are old favourites, others have become new friends. The route is structured in a loose circle allowing you to travel through some of the most beautiful landscapes and stunning towns where you will be able to indulge your gastronomic tendencies to the maximum.
As you fill your car boot with newly discovered wines to replenish the diminished stocks in your own wine racks, don't forget to check on how much alcohol you are able to take back with you from Europe. You don't want to give anyone the excuse to take it away from you!
Bordeaux, Southwest France
Starting your wine tour in Bordeaux is like meeting up with an old friend who you haven't seen for years, yet those years melt away, and it feels as though you only met yesterday. The familiarity and comfort inspired by Bordeaux wines will help ease you into a wine mindset.
As an area, Bordeaux has been fermenting grapes since the Eighth Century. The region is crisscrossed with vineyards and cellars housing shelving units stacked high with some of the most famous wines in the world, covering excellent value for money, to some of the most expensive bottles globally.
Bordeaux wines are split into two distinct regional halves divided by the Gironde river.
The left bank of the Gironde grows the Cabernet Sauvignon grape variety to produce a wine with stronger tannins, a deeper body, and higher astringency, which is softened by blending it with the Merlot grape. The right bank conversely flips the Merlot quantity, using it as the main base and blending with smaller quantities of Cabernet Sauvignon.
Tuscany, Italy
Located in central Italy, Tuscany houses some of the country's most stunning cities – including Florence, Sienna, Pisa, Lucca, and Arezzo.
Wine wise, Tuscany is famous for its chiantis, Brunello di Montalcinos and Bolgheris. The region enjoys a warm Mediterranean climate in which the Sangiovese grape is grown in abundance high up on sun-facing slopes and the variety of landscape lends itself to several variations on the grape that creates a wide variety of different wines which are enjoyed the world over.
Istria, Croatia
Across the Adriatic coast from Tuscany, you'll find the region of Istria in Croatia. Although Croatian wine is not as globally recognised, increasing awareness of the quality of the Malvazija Istarska, Teran, and Refošk grapes mean that Croatian labels are appearing more and more on wine racks all over the world.
So far, we have travelled down through France to visit Bordeaux, then along the Mediterranean coast to the region of Tuscany in Italy, and hopped across the Adriatic Sea to Croatia. Our next stop will be the far eastern region of Moravia in the Czech Republic.
Moravia, Czech Republic
Moravia is the most prolific producer of wine supplying about 95 percent of the country's total wine output. In stark contrast with Italy and Croatia's hot Mediterranean climate, Moravia has cool, continental conditions which allow Pinot Gris, Gewurztraminer, Riesling, and Sauvignon Blanc varieties to ripen slowly and completely, producing wines that are crisp, acidic, and refreshing.
Mosel, Germany
Mosel in Germany is famous for being the home of Riesling wine. Riesling accounts for over 60 percent of the grapes grown in the region, and the first-ever Riesling wine was first recorded in Germany in 1435.
You may want to invest in some good Riesling to lay down for a few years, as it is known to age well. A quality Riesling with a great vintage will last for up to forty years. If you don't want to wait that long to try it, you can spend a little less on a Riesling that will age nicely over a three-to-five-year period.
Alsace, France
You won't have far to travel to get back across the border into Alsace, a region that has its own unique style and taste of wine.
Alsatian vineyards do not use oak aging to add spice and richness to their wines. Instead, the peachy floral aromas are the result of balancing out the ripeness of the grape and the alcohol. Popular Alsace wines include Riesling, Pinot Blanc, Pinot Gris, Gewurztraminer and the sparkling Crémant D'Alsace.
Let's complete our tour with something rather fine - Champagne
Champagne, France
Champagne is strictly controlled by the Appellation d'Origine Contrôlée system that ensures the ONLY 'fizzy' wine that can be referred to as 'Champagne' is that which is grown within the region (hence the sparkling Alsatian wine is referred to as Crémant.) All Champagne producers follow strict operation and production rules and regulations that are designed to protect their economic interests and reinforce the enduring quality of Champagne as a regional product.
We hope that we have helped you spark a renewed passion to get back out on the road and rediscover some old wine favourites and make some new ones as well, as you potter from one stunning European location to another. And don't forget, if you need to add to your wine storage capacity, we have a wide variety of wine rack solutions that can be waiting for you to be filled when you return home.