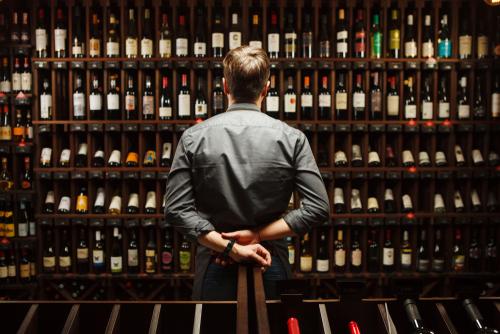 It is normal for wine lovers to try and establish a well-rounded selection of wines to choose from. After all, everyone wants to have a wine collection from which they can grab a bottle whenever the feeling takes them. However, fine wine is widely regarded as a luxury item and although it may be difficult to gather the perfect collection of tipples, it doesn't have to be hard on the wallet.
Our metal wine racks make the ideal way to show off your collection of fine wines and we have plenty of options suitable for hobbyist collectors and wine connoisseurs alike. Our racks can store anything from 12 to 90 bottles, giving you many opportunities to pick the perfect wine rack to suit your needs.
Got your ideal wine rack and now looking for the most cost-effective way to fill it? We've put together a handy guide to help you stock your wine rack on a budget.
Identify Your Favourite Tipples
One of the first things that should be done in order to turn your wine fantasy into a reality is to compile a list of your favourite wines. It's important to consider several factors while planning your wine collection for your contemporary wine racks. First, how many wines would you like to keep? Second, which wines have you enjoyed in the past? There's no need to invest in lots of wines you haven't tried before. However, if you are a fan of wine tasting parties, you can maintain a separate collection of unique wines to utilise whenever the need arises.
Planning Your Collection
While you are in the planning phase, you also need to conduct basic research about various kinds of wines. This should include different wine types, brands, the ingredients used in the wines, the procedures that are used to create various wines, and ultimately the price. As you discover wines that may be to your taste, make sure to calculate the prices of the wines to ensure that you don't go over your allotted budget.
Sometimes, the best-tasting wines can be found in your local supermarket without needing to spend a fortune on luxury bottles. Below are some highly-rated wines you can enjoy without breaking the bank!
Castellore Prosecco Spumante – Aldi
At a reasonable price of £5.99, this classic Italian sparkling wine has soft peach and pear flavours, making it the ideal partner for appetizers to get the meal started or to enjoy alongside delicate fish, white meats and fresh cheese dishes.
Irresistible Bio Bio Valley Malbec – Co-op
The smooth, steak-friendly Co-op brand wine is packed with fruity black cherries and features an underlying salty mineral-fresh flavour. This wine originates from Chile and is perfect for any steak lovers. For similar alternatives, Co-op has a broad selection of Valley Malbec wines from Argentina to the USA on offer and at a price that's friendly on the wallet.
So Organic Pinot Grigio – Sainsbury
Grown in Italy's Veneto region, the zesty white Pinot boasts its own breed of organic grapes, giving it a wonderfully crisp and refreshing peach and pear flavour. Seafood or spaghetti carbonara is the perfect food partner for this supermarket wine, available at the reasonable price of £6.50.
Sticking to the Budget
As previously mentioned, it's important to take note of the price that you would usually expect to pay for your favourite wines. This is particularly important if you are someone who regularly hosts dinner parties or enjoys wine alongside meals. Depending on how much you enjoy your wine hobby, you might need regular shopping sessions to ensure your wine rack remains stocked up!
Set yourself a monthly budget, especially if you are looking to try new wines. It can be all too easy to let discounts and bulk-buy offers sway your decision and quickly add up in cost. Instead, take advantage of local tastings, wine events and vineyard tours to discover a range of new tastes and collections that excite your palate.
Lastly, you should ensure that you have a high-quality wine rack to store your wine collection. Your wine rack should be attractive and provide strength and protection for your collection. We have a broad range of wine racks suitable for any occasion in a wide variety of sizes and finishes. Browse our wooden or metal wine racks now and find the perfect rack to store your high-quality but budget-friendly wines.