As anyone with a good collection of wine will testify, it is imperative that you pick a wine rack that does your collection justice. Wine racks come in many different guises and choosing the right wine rack for you is dependent on several factors; from your personal tastes and preferences through to efficiently working with the space you have available.
There are many compelling reasons to choose a well-crafted wine rack, not least to provide an aesthetically pleasing and functional storage solution for your wine collection. It is counterproductive to go to the trouble of building up an impressive array of wines and then simply store them in a cupboard out of sight. A good wine selection deserves to be seen and wine racks are, of course, the best way to achieve this goal.
Wine racks come in a multitude of different shapes, sizes and design styles and choosing the right wine rack for you will depend on issues such as the size of your collection, how much space you've set aside for your wine rack and your own personal tastes. Wine racks are also important in terms of keeping your wine immobile prior to opening and there are a few hints and tips that can be followed when it comes to choosing the best wine rack for you.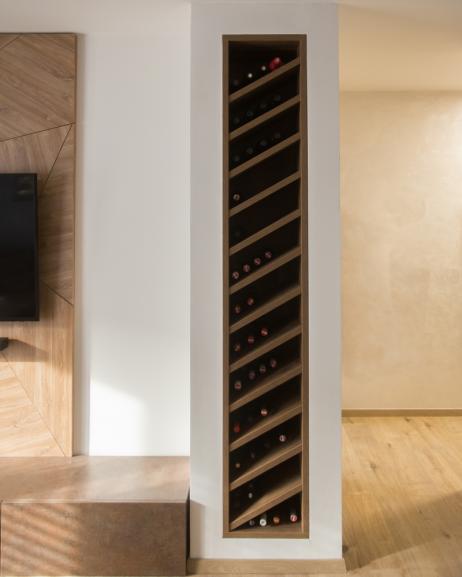 Wine Racks – Looking at the Dos and Don'ts
There are so many aspects to consider when it comes to picking a wine rack that it is impossible to illustrate all the details to keep in mind, however, here are some of the key points to consider include:
• Size
DO measure the area you plan on installing your wine rack
DO count the number of bottles you have and would like to store
DO take into consideration the size of the bottles you intend to store, i.e. half size, standard, magnums
DO speak to an expert if you aren't sure about the best type of wine rack for your space
DON'T make assumptions on your space and order a wine rack without measuring up twice
DON'T settle for a wine rack for a quick solution that doesn't suit your requirements
When choosing a wine rack, it is always prudent to speak with an expert on wine racks as they will be able to offer impartial advice on picking the right size wine rack for your needs. This will depend, of course, on how big your wine collection is and also how quickly you intend to drink it. For example, a serious wine collector will likely require a modular wine rack that is capable of holding hundreds of bottles of wine.
• Location
DO find a place that is out of direct sunlight and away from harsh lighting
DO choose a location that isn't likely to be bumped, knocked or exposed to vibration
DO consider a location that can act as a feature or talking point in your home
DON'T choose the wrong kind of wine rack for the space you have, i.e. a wall-mounted wine rack for a corner location
DON'T choose a location that isn't easy to expand, with a quality wine rack comes a vested interest in wine, often leading to larger collections
When choosing wine racks, you will first need to consider where in your property you are going to place it. In most cases, the room that best facilitates the introduction of a wine rack is a cellar or basement space.
The cellar or basement of a property, if suitably converted, offers the best conditions for storing wine of all types and quality. Conversely, one of the worst places to put wine racks is on top of objects in the kitchen, such as fridges, as this will subject the wine to vibrations, movement and fluctuations in temperature.
Choosing a wine rack for your home should be an enjoyable experience, just like picking out a complementing piece of furniture. Take the time to find a wine rack storage solution that works for you. Should none of our 'off-the-shelf' wine racks suit your needs, take a look at our bespoke wine rack service, building a wine rack to your custom specifications in a finish of your choice.
Get in touch today by emailing info@cranville-wine-racks.co.uk or phoning 01234 822977 if you'd like further information on choosing a wine rack.