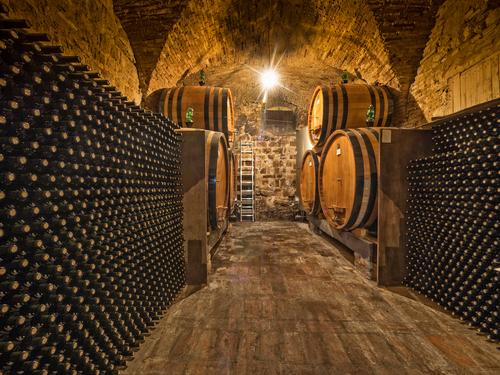 Quality wine racks are a fond favourite by wine collectors around the globe, providing dedicated and decorative storage for displaying their prized wine collection and favourite vintages. Whether you are an expert collector or a budding wine beginner, a custom wine rack offers additional protection against potential harmful light and will keep your collection safe from bumps and knocks.
Purchasing vintage, high calibre wines is one of life's pleasures for many people and it is important to have a suitable wine rack on which to display your wares. With a multitude of styles and materials to choose from when it comes to the creation of your wine rack, all you need to decide is which is right for your home. Consider your own personal style preferences, how many bottles of wine it is you would like to store and where your rack will go before making a decision!
Wine racks are not only imperative for the correct storage of vintage wines but it is also possible to make a design statement with a wine rack as many of today's offerings are very impressively designed and quality built.
A Question of Space
Your choice of wine rack will be dependent on a number of factors but amongst the most crucial is the amount of space that you have to spare. There are many great wall mounted wall racks which will negate the issue of taking up valuable worktop space in a kitchen and for more extensive collections of vintage wines, there are free-standing wine racks which can be placed in cellars or kitchens.
Regardless of whether you are looking for a wine rack to store a couple of bottles or a wine rack to place dozens of bottles of vintage wines, there are more personalised options available through our custom wine rack service.
Finding the Perfect Place
It is important that you place any wine rack that you purchase out of direct sunlight and away from harsh lights because this can severely compromise the quality of the wine that you are storing. If you are concerned about light getting into your prized wines, consider extra protection with wine cubes or wine drawers, with solid frames that block light and make expanding your collection easy.
You should aim to place wine racks in a room in your home which remains consistent in temperature, not dipping below 7 °C and never exceeding 18°C, as this will ensure that the quality of the wine is not impacted by external factors.
Avoid placing your new wine rack on-top of or against appliances that hum or give off vibrations such as fridges, extractor fans and freezers. Constant and intermittent vibrations can interfere with your wine, causing it to prematurely age and changing the consistency and taste over time.
Finding the right space in your home can be tricky, but we've got wine racks to suit all needs – whether you are fitting into a tight space or have an entire cellar to fill, our custom wine racks mean you have much more flexibility than you might have with standard racks. All of our wine racks are specially designed to orientate your wine correctly, with options for side or tilted storage, ensuring your corks stay moist and no air makes it into your bottles during storage.
Looking to Buy a Quality Custom Wine Rack for your Home?
Cranville Wine Racks is your one-stop shop for that perfect wine rack. Our goal is to provide quality merchandise at great prices. With the added benefit of international shipping, you are sure to find the wine rack you are after at a fantastic price. We have a top-class selection of free-standing wine racks in wrought iron, and traditional wood and metal, plus various wine accessories that are perfect for any home.
Looking to fill a space but none of our premade wine racks quite fit the requirements? We can provide a custom wine rack service, building a wine rack to suit your needs with the materials and finish that appeal to your home décor. Whether you are looking for a comprehensive wine cellar build or a custom wine rack for your kitchen or dining room, we will create a wine rack for you to proudly display your collection.
Browse our website to find what you're looking for, email our friendly team on info@cranville-wine-racks.co.uk or call 01234 822977.