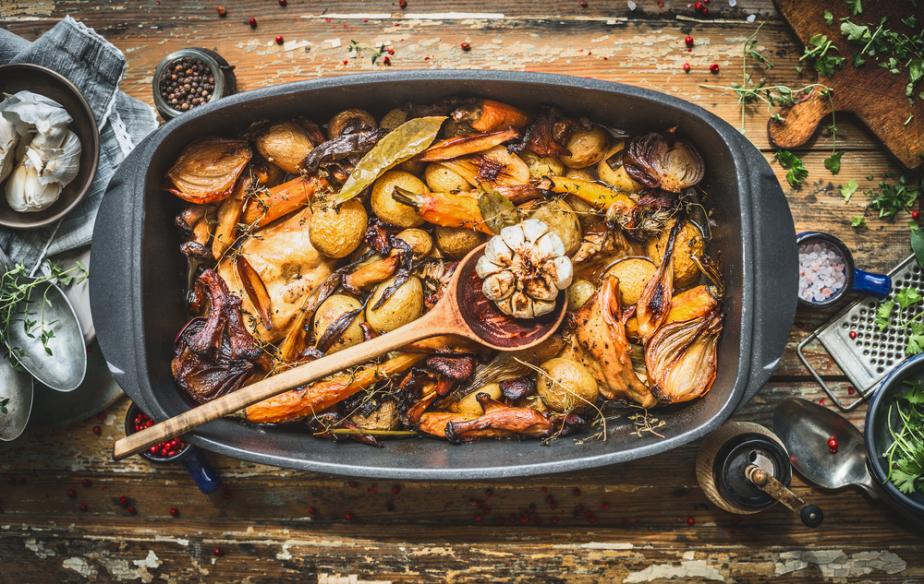 As wine lovers will know, there is much more to wine than simply drinking it. If you are one of the many people with a plethora of bottles sitting on your wine rack, you will undoubtedly be keen to mix a bottle into your favourite recipes.
If you're in need of some inspiration, here are five of our favourite dishes that incorporate wine.
Tomato Soup with Red or White Wine
Possibly one of the most basic yet satisfying of dishes is the trusted tomato soup. An easy-to-make dish; one that always goes down well in winter if you are beginning to fall victim to Jack Frost.
We recommend ignoring the 'if it isn't broke don't fix it' approach - upgrade your soup by pulling your favourite bottle of red or white from your wine rack and carefully mixing it into your soup mix. Just a splash is enough to add an incredible fruity twist to your bog-standard tomato soup.
Chicken with Red Wine Sauce
Simple to prepare yet a delight to the taste buds, chicken with red wine sauce is a taste sensation perfect for wine lovers to try.
Start by heating a teaspoon of olive oil over a medium heat in a large pan and add a tablespoon of minced garlic, cooking until tender. Add boneless chicken breast to the pan and cook for roughly 10 minutes on each side.
Drain the oil and sprinkle a cup of brown sugar and a tablespoon of paprika, pouring a cup of red wine around the chicken. Leave to simmer for around 15 minutes and baste the chicken with the red wine while cooking. Add salt and pepper to taste.
Turkey Marinated with White Wine
One of the common grumbles when it comes to turkey is that the meat can be somewhat dry, especially when compared to chicken. To add both flavour and moisture to the meat, marinating the turkey with a splash of white wine will do wonders.
Before placing the turkey into a preheated oven (of around 175 degrees C, gas mark 4), cover the bird with white wine, brush with butter, and place foil over the top. Cook as normal over the course of three-and-a-half to four hours and leave to stand for approximately 30 minutes before carving.
Bolognese Stuffed Bell Peppers with Red Wine
For this recipe, the Bolognese mixture can be served either in the peppers or over pasta, depending on preference. To make the mixture, heat a tablespoon of olive oil in a pan over medium heat and stir in a half a handful of celery and minced carrots for around five minutes. Add 230grams of ground beef and 125grams of diced pancetta and cook until brown and crumbly.
Drain away excess fluid and add 60ml of red wine, 360ml marinara sauce and half a teaspoon of red pepper flakes and simmer for 10 minutes. Add 80ml cream, 60ml parmesan cheese and 120ml of cooked rice, stir in and cook for five minutes.
Fill your prepared peppers (halved, with stems and seeds removed) with the mixture, drizzle with olive oil and parmesan cheese and place in a preheated oven at 190 degrees C (gas mark 5) for 30 minutes.
Shrimp and Pasta with White Wine
For those with a spare white wine on their wine rack, you can experiment with the amount that you place into this mixture. Adding a tablespoon of white wine into a pan over a medium heat with two tablespoons of olive oil, peeled shrimp and five cloves of minced garlic creates a gorgeous pasta sauce.
Pour the sauce and shrimp over cooked pasta, stir and toss to mix together and serve with a sprinkling of cheese to your liking.
If you have been left inspired by our recipes and feel that you require a wine rack to hold your favourite cooking ingredient, please call Cranville today on 01234 822 977.